The Home Of Dark Butterflies
The Home of Dark Butterflies is Dome Karukoski's second feature film.
The film is based on a praised novel by Leena Lander.
Leena Lander's novel The Home of The dark Butterflies (1991)  has been published in seventeen countries. It was short-listed for the Finlandia Prize in 1991, proved such both commercially and critically; and in an event extremely rare for a Finnish book, the film rights were acquired by Hollywood.
Several years later Solar Films bought the rights and made it happen. Producer Markus Selin hired young Dome Karukoski (graduation film Tyttö sinä olet tähti aka Beauty and Bastard) to direct the film and Marko Leino, born 8.9.1967, (Me and Morrison, Matti, V2 – Dead Angel) to write the script.
Synopsis
A  past to forget, a future to find
The principal character of the movie is 14 years old Juhani (played by Niilo Syväoja), haunted and oppressed by a traumatic childhood experience. After being bounced between foster homes and temporary families for six years, Juhani ends up in a Boys' Home, The Island. The place is run under the laws and regulations of the superintendent, Olavi Harjula (Tommi Korpela), who is ruthless in his administration. Besides the seven boys and Harjula, the only other inhabitants of the Island are the superintendent's wife Irene (Kristiina Halttu) and their two daughters, along with Tyyne (Kati Outinen), who's in charge of the livestock and the catering.
The isolated community is a world of its own. The movie forces the spectators to ask themselves; how long do you have to keep paying for past mistakes and deeds? When can you forgive yourself and set free? Or can you at all? And are you responsible for other people's actions? The Home of Dark Butterflies won't answer these questions directly – because there are no answers. Every spectator must make his own stand, based on his own moral judgement; what is right and reasonable?
CAST
Harjula – TOMMI KORPELA
Juhani – NIILO SYVÄOJA
Salmi – EERO MILONOFF
Hämäläinen – NIKO VAKKURI
Sulkava – IIRO PANULA
Rinne – VILLE SAKSELA
Simola – HENRI HUTTUNEN
Sjöblom – ROOPE KARISTO
Vanamo – MARJUT MARISTO
Irene – KRISTIINA HALTTU
Tyyne – KATI OUTINEN
Erik – PERTTI SVEHOLM
Maire – MATLEENA KUUSNIEMI
Orvokki – EDIT VILJAMAA
Juhani, 7 – SAMU UUTELA
Social worker – HEIKKI NOUSIAINEN
Criminal investigator – SKO SAHLMAN
Detectives  – DOME KARUKOSKI, KIRSTI VÄÄNÄNEN
Authoritative – MATTI ONNISMAA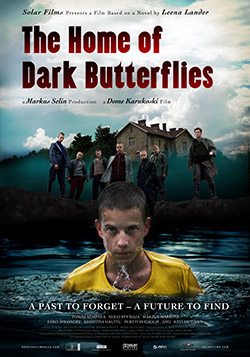 PREMIERE
11.1.2008
DIRECTOR
Dome Karukoski
PRODUCER
Markus Selin
EXECUTIVE-PRODUCER
Jukka Helle
SCREENWRITER
Marko Leino based on the original novel by Leena Lander
DIRECTOR OF PHOTOGRAPHY
Pini Hellstedt F.S.C.
PRODUCTION DESIGNER
Pirjo Rossi
COSTUME DESIGNER
Elina Kolehmainen
MAKE UP ARTIST
Mari Vaalasranta
SOUND DESIGNER
Jyrki Rahkonen
COMPOSER
Panu Aaltio
FILM EDITOR
Harri Ylönen
DISTRIBUTED BY
Nordisk Film
SOUND
Dolby Digital